TÜV AUSTRIA Group, a Testing, Inspection and Certification (TIC) Group of companies, is a member of the TIC Council (tic-council.org), the world association of testing, inspection and certification companies.
TIC Council has issued a binding Compliance Code
The Compliance Code defines the Standards of Conduct and integrity
All members of the TIC Council are obliged to observe the Compliance Code
TIC COUNCIL
Integrity
No Conflict of Interest
Confidentiality and Data Protection
Anti-Bribery
Fair Business Conduct
Health and Safety
The resulting 7 principles are incorporated in our TÜV AUSTRIA Code of Conduct (pdf).

TÜV AUSTRIA is required as a member of the TIC Council to create means to highlight and report misconduct based on the TIC Council Principles
TÜV AUSTRIA Legal & Compliance has implemented the electronic whistle-blower system tuvaustria.whistleblowernetwork.net .
The whistle-blower system is hosted externally without any connection to the corporate IT network or infrastructure
Neither IP addresses nor device IDs are protocolled
Reports are anonymised by default
Reports are sent and stored encrypted
Greatest confidentiality also when a user has optionally disclosed her / his identity
Reports are treated objectively and with due diligence in accordance with applicable data protection law
The presumption of innocence applies when misconduct has been reported
The whistle-blower system must not be used for wrong accusations, knowingly reporting false information is prohibited
tuvaustria.whistleblowernetwork.net
Optionally right click on tuvaustria.whistleblowernetwork.net and copy the link into another browser.
TÜV AUSTRIA
COMPLIANCE OFFICER
DDR. MANUELA KOHL
Get to know TÜV Austria Group's Compliance Officer and feel free to contact us if necessary.
CONTACT US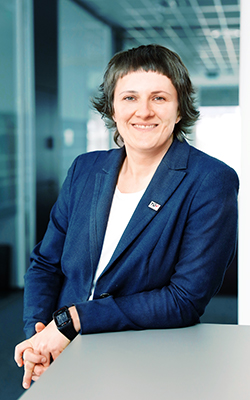 DDr. Manuela Kohl
TÜV AUSTRIA Group Compliance Officer
compliance@tuvaustria.com

TÜV AUSTRIA-Platz 1, 2345 Brunn/Gebirge
The Compliance Officer is responsible for determining, defining and monitoring measures for the implementation and continuous maintenance of the TÜV AUSTRIA Group Compliance Program in order to prevent or counteract damage within the TÜV AUSTRIA Group.
The Compliance Officer demonstrates internally and externally that compliance with laws and regulations is an integral part of the TÜV AUSTRIA Group and thus also has symbolic value.
The Compliance Officer can be contacted at compliance(at)tuvaustria.com
TÜV AUSTRIA Group Compliance
tuvaustria.whistleblowernetwork.net