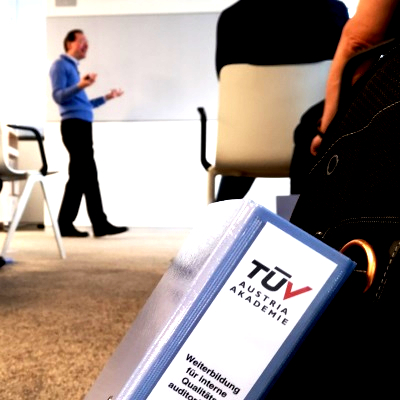 Would you like to receive the right training for yourself on an ISO standard? Perhaps on a management system? Maybe on quality management, food safety, occupational health and safety, information security? Or more? You are at the right place.
ISO standards are worldwide accepted standards that provide well-established methods and techniques to ensure sustainable quality in a wide range of activities at many stages of business and daily life.
TÜV Austria Azerbaijan is organizing auditor, lead auditor and consciousness-raising programs on a wide variety of ISO standards including ISO 9001, ISO 27001, ISO 14001, ISO 45001 and more. All training programs are carried out by competent trainers to make sure every attendant receives the best possible education. The certificates given at the end of the training programs will give you the power of worldwide recognition based on TÜV Austria Group's well known and accepted accreditations all around the globe for more than a century. Join our programs and widen your world.
ENVIRONMENT
ISO 14001:2015
INFORMATION SECURITY
ISO 27001:2013
OCCUPATIONAL SAFETY
ISO 45001:2018
ISO PROGRAMS SECTOR SCOPES
TRAINING & EXAM CALENDAR
Type
Program
Start
End
Location
TRAINING
ISO 9001:2015 QUALITY MANAGEMENT SYSTEMS - INTERNAL AUDITOR
27 September 2023
29 September 2023
Bakı
TRAINING
ISO 45001:2018 OCCUPATIONAL HEALTH AND SAFETY MANAGEMENT SYSTEM INTERNAL AUDITOR
02 October 2023
04 October 2023
Bakı
TRAINING
INTEGRATED MANAGEMENT SYSTEMS INTERNAL AUDITOR (ISO 9001, ISO 14001, ISO 45001)
30 October 2023
03 November 2023
Bakı